Virginia Boat Registration & Titling
Do I need to register my boat in Virginia?
The DGIF requires titling and registration for all:
motorized vessels and
sail-powered vessels (without a motor) greater than 18 feet in length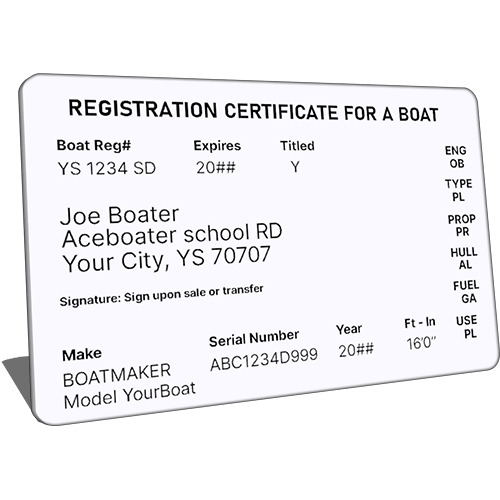 The following types of watercraft do not require titling or registration:
Non-motorized (powered by paddles or oars) vessels, e.g. canoes and kayaks.
Boats used only on private waters
An owner bringing a watercraft into Virginia from another state may operate the vessel for up to 90 consecutive days on the other state's current, valid registration before registering it in Virginia.
Where do I register a motorized boat in Virginia?
The Application for Watercraft Certificate of Title and Certificate of Number form (PDF) is available from most watercraft dealers, the Department of Game and Inland Fisheries' Headquarters and Regional Offices (and this site), and agents who sell hunting and fishing licenses.
In addition to other information, an application for title and registration requires a detailed description of the watercraft that includes the make, length, model year, type of vessel, hull material, type of propulsion, and the twelve-character hull identification number; the make, horsepower and serial number of the motor if in excess of 25 horsepower; and the name and address of the lienholder, if any.
New online portal!
One-stop shop, for DGIF customers to register and renew boat registration.
I just bought a used boat that is currently registered in Virginia. How do I register it?
If it was titled:

Send

the original title signed over to you by the previous owners,
the completed "Boat Title and Registration" form, and
appropriate fees to this department, attention the Boat Section.
If it was not titled:

Send
My Virginia registration has expired. How do I renew it? Are there any late fees?
You may use the "Boat Title and Registration" form to renew your registration. If you use this form, write in large bold letters at the top of the form the word "RENEWAL". Otherwise, you can contact this department by phone, mail or e-mail asking for a new renewal form. Be sure to give your VA boat number and correct return mailing address. We would then send you a renewal form in the mail for you to renew the registration. There are no late fees for registering a past due boat registration.
How do I get a replacement registration card, replacement decals or replacement title?
When you register your boat in Virginia, what will you receive as proof?
A wallet-sized registration card.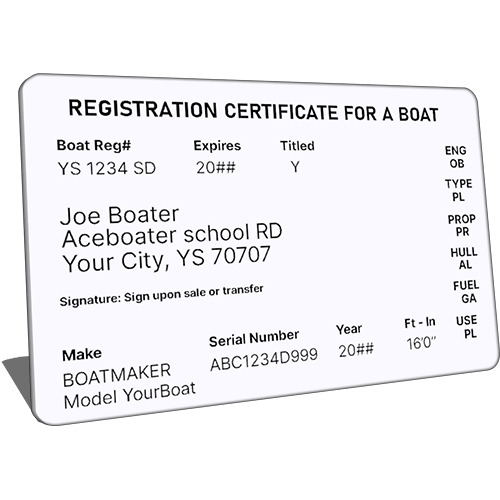 The pocket-size Certificate of Number must be onboard whenever you use your vessel. You must sign the original wallet-sized registration card upon receipt.
Once in receipt of the application and required fees, the Virginia Department of Game & Inland Fisheries will issue a title, which is proof of ownership, and a Virginia Certificate of Number. A set of registration decals will also be issued.
The Certificate of Number and registration decals are valid for 3 years.
Trailers are treated like cars. The title, registration and license plates for your boat trailer are obtained from the Virginia Department of Motor Vehicles (DMV).
If a registered watercraft is sold, destroyed, abandoned, or stolen, or if there is a change in your mailing address, you are required by law to report this information in writing, within 15 days to the DGIF.
Display of Registration Numbers & Decals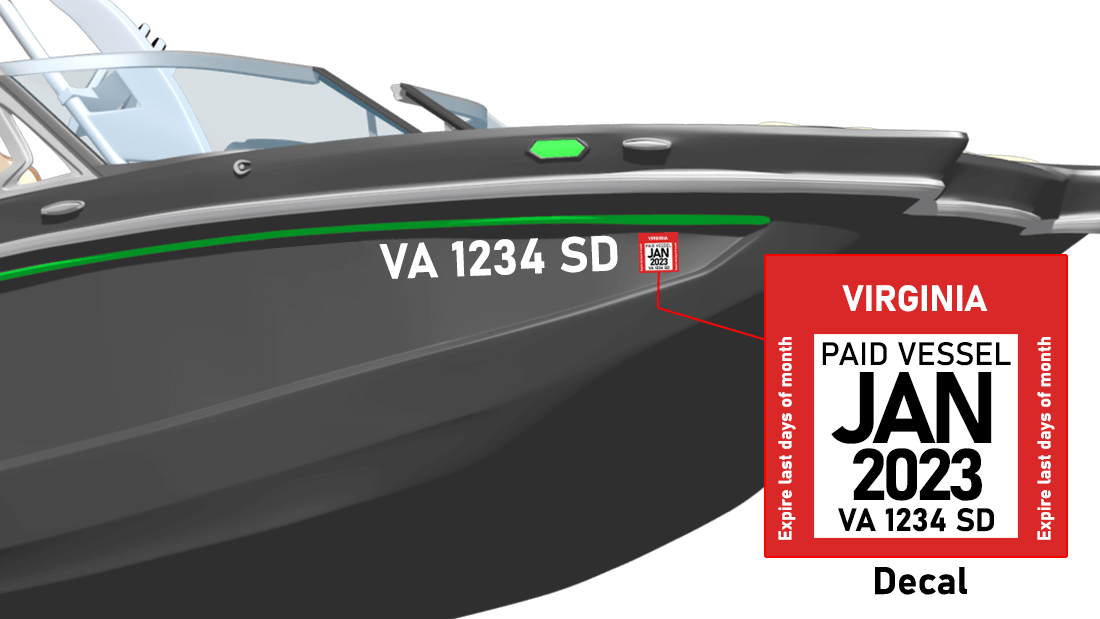 Your registration numbers must be displayed:
On the forward part of your vessel well above the waterline.
On both sides of the bow.
Numbers must be painted or applied as a decal, where law enforcement officials can read it.
Letters and numbers are BLOCK style of at least 3 inches in height and must contrast in color with the hull.
Letters and numbers are to read from left to right and have a space (VA 4252 AF) or hyphen (VA-3534-AF) to separate letters and numbers.
Registration decals must be displayed within 6 inches in line with the registration number, on each side of the vessel.
Some boats that are at least five net tons in size and owned by an American citizen can be registered with the U.S. Coast Guard. These boats are "documented." Documented boats must still be registered with the state. They cannot be titled in Virginia, but the owner of a documented watercraft may apply to DGIF for state registration decals.