New Jersey Boat Registration
Do all boats need to be registered in New Jersey?
To operate any titled vessel (i.e. vessels over 12 feet in length) or any mechanically propelled vessel (of any length) in New Jersey, you must register your boat. All motorized vessels in New Jersey are required to be registered annually.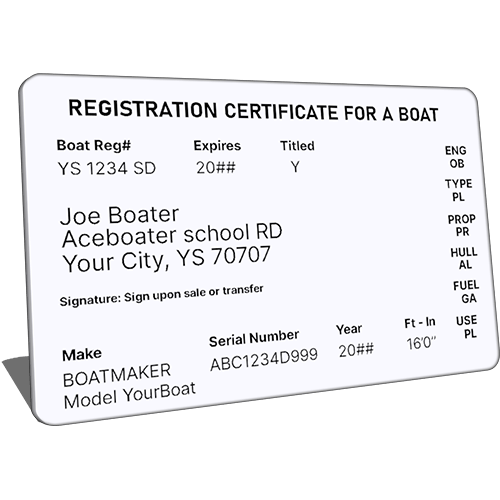 The following are exempt from numbering in New Jersey:
Vessels that have been properly registered or documented in another state and are operating on New Jersey State waters on a transient basis;

Vessels from another country and are operating on New Jersey State waters temporarily;

Public vessels owned by the United States, a state, or subdivision/agency thereof.

A vessel's lifeboat;

Non-powered vessels up to 12 feet in length (including canoes and kayaks);

Non-powered vessels used exclusively on private property (lakes and ponds);

Vessels used exclusively for racing in authorized races or under a New Jersey State Police permit;

A non-powered inflatable, surfboard, racing shell or tender for direct transportation between a vessel and the shore and for no other purpose (i.e. dinghy)
Once a vessel is registered the owner will receive a Certificate of Number that must be kept on board and readily available for inspection by a law enforcement officer whenever the vessel is in operation.
The Motor Vehicle Commission must be notified in writing within seven days if the owner changes address.
How to Display Registration Number and Decals in New Jersey?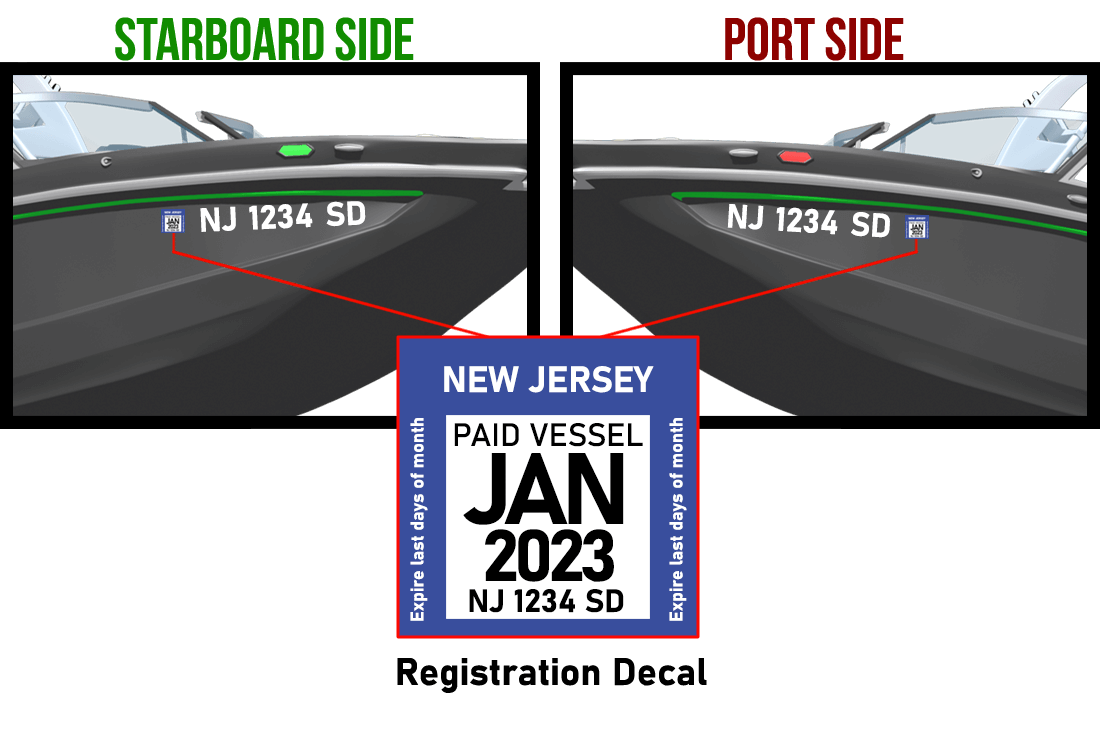 Every vessel that is required to be numbered must display decals issued by the department to identify the vessel as currently registered. When a vessel is sold, the seller is responsible for removing the decals.
You must display your boat number in the following manner:
Painted on or permanently attached to each side of the bow;
Positioned to ensure maximum visibility;
Using BLOCK letters at least three inches high and of one solid color contrasting with the color of your boat;
To read from left to right; letters and numbers must be separated by a space or a hyphen, for example,

NJ 1234 AB

or

NJ-1234-AB;
You must display your validation decals as follows:
On both sides of the boat, three inches aft of the registration number;
Expired registration stickers must not be visible.
Documented Vessels in New Jersey
Boats that are at least five net tons in size and owned by an American citizen may be registered with the U.S. Coast Guard. These boats are "documented".
Documented boats must still be registered with the state, they are not required to display numbers but validation decals must be displayed.