Compliance Notice Maximum load capacity & engine power
What is a Compliance Notice?
By definition, a compliance notice is the manufacturer's or importer's confirmation that the boat is built in accordance with the construction requirements of the Small Vessel Regulations. Before attaching a compliance notice to a boat, a manufacturer or importer must produce a Declaration of Conformity for the boat.
The Small Vessel Regulations require, with a few exceptions, that all pleasure craft of less than 24 metres, that are or can be fitted with a motor, have a compliance notice affixed to them in a location visible from the helm. Although it is not prohibited to have other types of compliance notices affixed to the vessel, this does not replace the requirement to have a Compliance Notice from Canada attached.Compliance notices are issued by the manufacturer.
No one is allowed to remove or alter a compliance notice, or even affix a compliance notice that contains incorrect information about the vessel.
There are 2 types of compliance notices for pleasure craft in Canada:
Compliance notice for a pleasure craft measuring less than 6 metres (19'8") in length.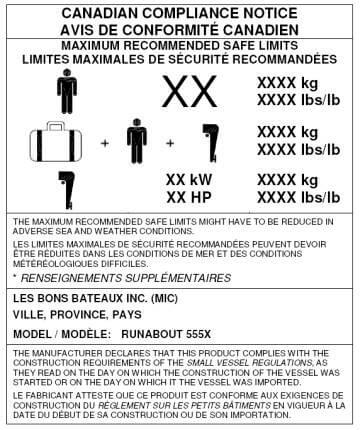 Compliance notice for a pleasure craft measuring more than 6 metres (19'8") in length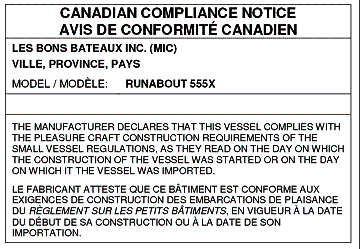 What information can be found on a compliance notice?
maximum load capacity (Gross load capacity);

maximum engine power;

maximum number of persons allowed on board.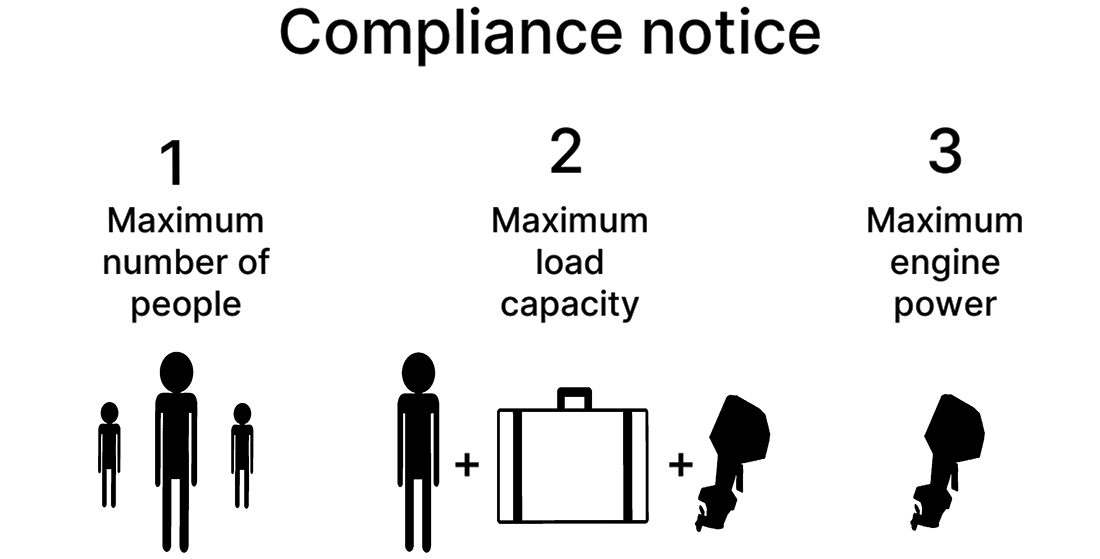 What is maximum load capacity on compliance notice?
The maximum load capacity on compliance notice refers to the total weight that the craft can hold in order to navigate safely.
Remember that this information applies only in good weather. The number of people who can be carried safely depends on the type of boat, where people and equipment are carried, and weather and water conditions. Operators must know and respect their boat's limits.