Canadian Boating License (PCOC) Replacement Card Lost or Broken Pleasure Craft Operator Card
Have you lost or damaged your Pleasure Craft Operator Card (PCOC)? We can replace any Canadian boating license or issue extra cards that you can keep in strategic places: in your wallet, on your boat, or in your tackle box.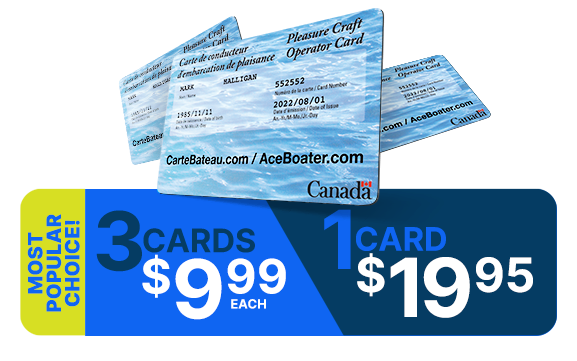 Advantages of owning many Pleasure Craft Operator Cards
We highly recommend that you order extra cards. Take advantage of our discount.
Having spare cards means you avoid the run around should you lose your card
Have one in

your wallet
Have one in

your boat or tackle box
Have one filed away

at home - Backup!
Please remember that you must have an original pleasure craft operator card on board at all times while you are boating.
Please note that the fine is $250.00 plus costs if you are caught without your card while you are operating the boat.
Unfortunately, a photocopy of your card is not legal proof of competency.
If you have any questions, don't hesitate to contact us today info@aceboater.com.
Replace your damaged or lost Pleasure Craft Operator Card
Please contact us at 1-888-962-6513 to order a replacement Pleasure craft operator card with your full name, date of birth and phone number.
We can issue you lost boat license cards from the following provinces: Ontario, Alberta, British Columbia Manitoba, Quebec, New Brunswick, Newfoundland and Labrador, Northwest Territories, Nova Scotia, Prince Edward Island, Saskatchewan, Nunavut.