How do I get my boating license in Canada?
You can get the card by taking a boating safety course online, and passing the test at the end of the course. Training and testing for the boating license is available at Aceboater.com, official provider for Transport Canada.
Step 1
STUDY AT YOUR OWN PACE
Register and do Chapter one for free.
Pay only

$ 59.95

(online course, final test and the card included).
Complete an easy-to-read study guide.
Step 2
TAKE THE FINAL TEST
Transport Canada's official final test.
Free tests retries - Risk free.
Open-book final test.
Step 3
PRINT YOUR CERTIFICATE
Print your temporary card immediately and start boating now! It is valid for 60 days.
Your official Pleasure Craft Operator Card will be mailed within 30 days.
The card is good for life.
Online study procedure:
The study guide is divided into 6 chapters.

After each chapter you must complete a short ten-question quiz.

The passing score is 8 on 10.

You can check your wrong answers after each quiz.

Transport Canada requires a minimum of 3 hours of online study.

You have one year to complete the course and exam.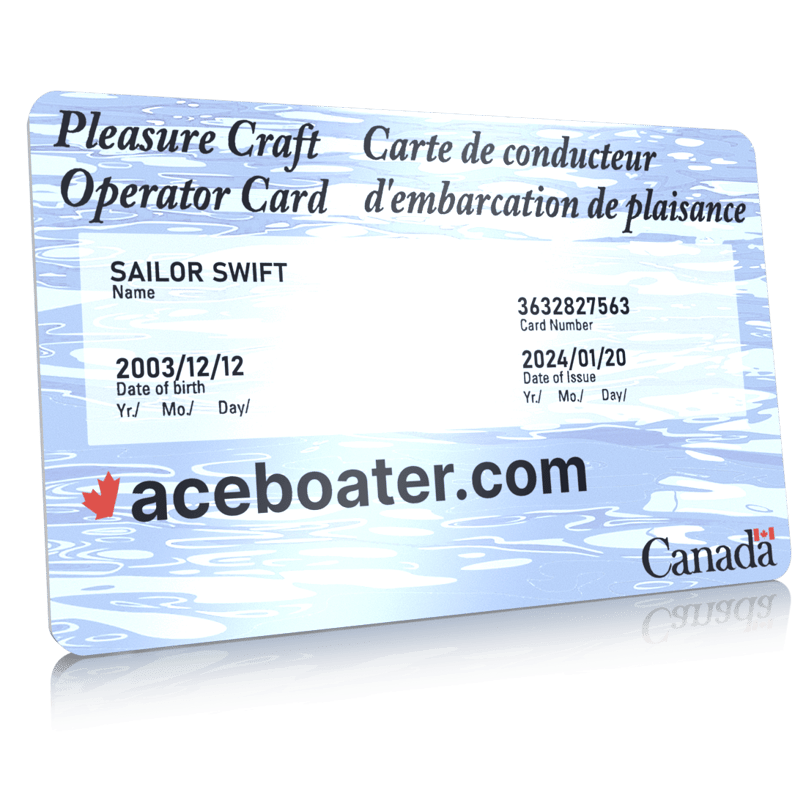 Transport Canada final test procedure
After successfully completing all six chapters, you may take the Transport Canada final test.

The boating test consists of 50 multiple choice questions.

You have 75 minutes to write the final test.

The passing score is 38 on 50.