Criminal offences related to dangerous boating operation in Canada Contraventions Act
Operators must recognize that certain behaviors constitute criminal offences that are punishable (could lead to fines or possible imprisonment). The following offences are also in violation of the Criminal Code of Canada (Contraventions Act):
Operating a vessel in a dangerous manner.

Consumption of alcohol/drugs while operating a vessel, in some provinces.

Operating a vessel while impaired (alcohol/drugs).

Towing water-skiers after dark (one hour after sunset, to sunrise).

Failure to stop at the scene of an accident.

Failure to comply with demand (demand to stop).

Sending false distress signals.

Operating an unseaworthy vessel.

Tying up to a buoy.

Operating a vessel while disqualified/prohibited.

Failing to stop a pleasure craft at the request of an enforcement officer.
In the event that a law enforcement officer asks to check the safety equipment on board, you must comply. You are obligated to comply with any demand or requirement from a law enforcement officer. The officer has the right to ask for proof of identity as well as for proof of competency when you are intercepted. He/she may ask any pertinent questions and it is the officer's right to board the vessel if deemed necessary. The Criminal code of Canada enables law enforcement officials to issue tickets and fines for offences. The Criminal Code of Canada requires that you maintain your boat and equipment in seaworthy condition.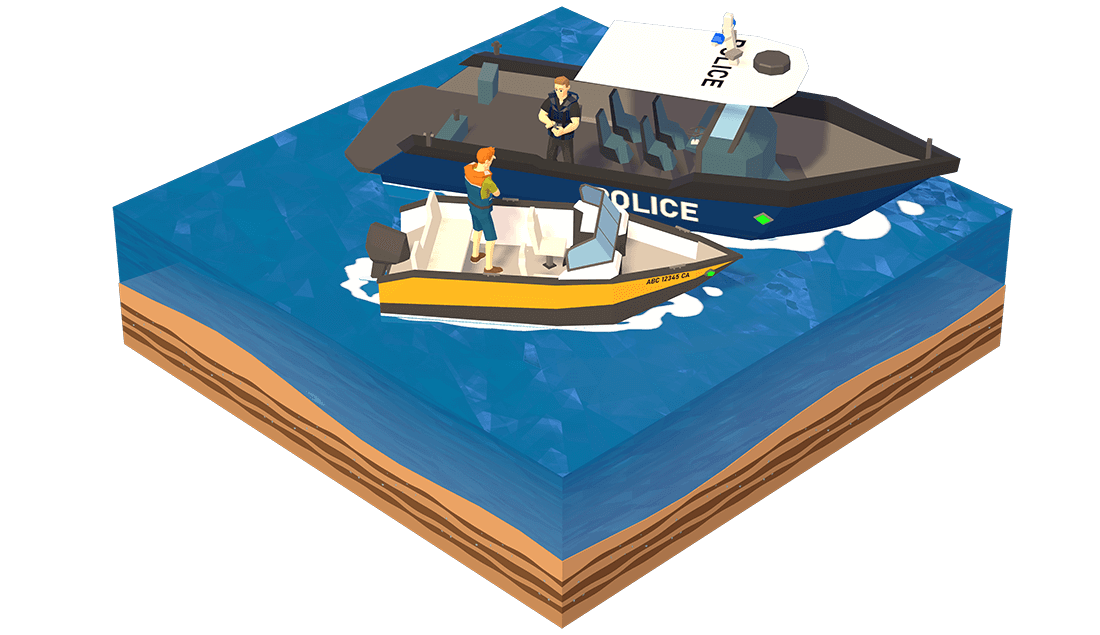 Fines
| | |
| --- | --- |
| Operating vessel if you are under age | $250 |
| Failing to have proof of competency on board | $250 |
| Failure to have the required pleasure craft licence on board | $250 |
| Altering/Defacing/Removing hull serial number | $350 |
| Operating a boat in a careless manner, without due care and attention for others | $350 |
| Operating a vessel in an unsafe manner | $500 |